Biometric health screening results.
When you plan a biometric screening event through TotalWellness, you'll receive a report with your company's results at no additional charge. Our aggregate reporting tool organizes and analyzes your employee population's demographic information and the results from the screening to help you make more informed, strategic decisions.
Our reporting tool displays the results of your corporate biometric health screening event at the aggregate level. Off-site screening results from physician visits, home kits, retail and lab visits are included, too, so you get a complete view of your employees':
Reports can also be built to include aggregate data from additional blood tests and nicotine tests.
We can also securely transfer biometric screening data to third-party administrators, HR consultants, disease management companies, insurance companies and brokers
Long-term benefits of results reporting.
While you won't be able to view individual results, the aggregate summaries can provide powerful insights into the overall health of your employee population. Then, you'll have the information you need to tailor your wellness program and initiatives to serve your employees' unique needs. For example, if your company's overall cholesterol screening results cause concern, you could set up an action plan that involves health coaching programs, incentives and other specific wellness interventions designed to lower cholesterol levels.
What's in it for employees?
At the screening event, we'll provide each participant with an educational booklet that includes his or her biometric values. Employees can also review their health test results online. The online report highlights areas of high risk, so they know exactly which areas of improvement to focus on.
We also encourage the use of a comprehensive health assessment questionnaire to help employees better understand the full picture of their health. This is available with our engagement-based employee wellness program.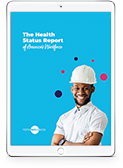 Get our free guide, "The Health Status of America's Workforce".