COVID-19 Saliva-Based Test
TotalWellness, a national wellness company, is now offering saliva-based home test kits. 
We are utilizing a test called, CRL Rapid Response™, a saliva-based COVID-19 RT-PCR test that can be self-collected at home. The test, shown in CRL's  FDA Emergency Use Authorization (EUA), studies to be more sensitive and accurate than the standard COVID-19 anterior nasal swab test, detects the presence of coronavirus in the saliva of the test taker. In CRL conducted studies of paired samples required for the EUA, the CRL Rapid Response test had 100% sensitivity and specificity ­(higher than any other saliva-based COVID-19 molecular diagnostic test) — accurately detecting the presence or absence of the virus in known COVID-19 positive and negative patients as compared to only 55% detection using anterior nasal swabs, the common method of self-collection.
,The test itself is easy to use and simply requires that the individual's saliva be deposited in a collection vial provided and sent back to the CRL laboratories using the company provided prepaid one-day shipping package. Specimens are processed within 24-48 hours of receipt and individuals can access their test results online through a unique two-factor authentication protected portal.
Patients will need to order their home kit online and then pick up kit at the TotalWellness headquarters. Kits can be picked up Monday – Friday, 9 a.m. – 4 p.m. at 9304 H Court, Omaha, NE 68127. Look for the COVID-19 testing area. Please bring a copy of your receipt and ask for "home kit" when you arrive at TotalWellness. You must pay online via credit card. We recommend completing the saliva kit first thing when you wake up in the morning. You can NOT eat, drink, smoke, brush teeth, or chew gum for 30 minutes before collecting the saliva sample. Watch the collection video for more information about how to collect the sample.
If you are a business that is interested in purchasing tests for employees, contact our sales team for more information. 
Cost: $150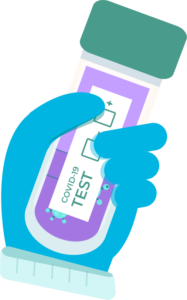 Have questions about COVID-19 testing?