Biometric screenings are a series of health tests designed to offer insight into your employees' overall health. Currently, the wellness industry thinks of biometric screenings as necessary, but all the same. We're out to prove that by providing better, more positive screening experiences employees will be more engaged and get more out of corporate wellness programs.
Our standard on-site biometric screenings include the following measurements:
Choose Between Fingerstick or Blood Draw for a Cholesterol & Glucose test with readings on Total Cholesterol (TC), HDL Cholesterol, LDL Cholesterol, TC/HDL Ratio, and Triglycerides
Blood Pressure
Height/Weight/Body Mass Index (BMI)
Waist Circumference
With instant results available, on-site screenings provide a convenient way to reach employees. For sites with Wi-Fi, we can use tablets to streamline the collection of biometric data. Plus, as an employer, knowing more about the prevalent health risks in your organization can help you develop wellness strategies and deliver appropriate programming.
Pricing
We offer all-inclusive pricing per participant – so you don't have to worry about extra hidden fees. Here's a quick glance at some of what's included: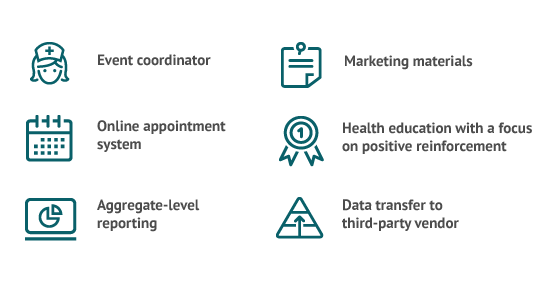 Our Specialty
We specialize in on-site biometric health screenings. We run the screenings, cover the details and handle all of the workload so you can focus on what's important – the results.
Our Biometric Screening Staff
Our nurses and staff are of the most qualified professionals in the industry. We have established a network of over 6,000 medical professionals throughout the country. They are reliable, punctual, and trustworthy. Our nurses understand the critical "teachable moment" that occurs after an employee receives their screening results. All staff complete our rigorous training program and they have the personality and passion to speak with each individual about what their health numbers mean. Additionally, we put forth our greatest effort to ensure you see the same faces at each event year after year.
Our Follow-Through
We do what we say we are going to do. We strive to ensure the best experience possible by handling all of the details and implementing projects from start to finish. Relationships are developed, trust is built, and events run smoothly.
In addition to on-site biometric health screenings, TotalWellness can also provide additional health tests, including a cotinine test, fitness testing and carotid artery ultrasound screening.
Remote Options
For remote employees that would be unable to attend on-site health screenings or for smaller sites, TotalWellness offers a variety of options including a lab collection network with over 1,300 sites, home kits and we can even upload data from a primary care physician office visit.
Health Screening Reporting
TotalWellness will provide you with aggregate reports of your biometric health screenings through an online dashboard. Our dynamic, online system can be customized according to the specific reports you would like to create. We store your data, keeping it secure, safe, and confidential.